Open the door to opportunity: Collaborating to
win in the hotel distribution playing field

Discussion paper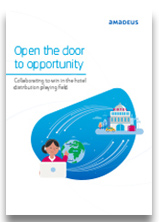 With the proliferation of distribution channels we have seen in recent years, the hotel sector has never before undergone so much rapid change in how it presents its inventory to consumers and in how they access it.
There is no doubt that the hotel industry is facing significant challenges and that key trends like personalization, consolidation and innovation are the driving forces that will continue to shape the evolving hotel landscape.
This paper provides a snapshot of how hospitality industry stakeholders around the world are looking to tackle these challenges. Included are quotes, survey results and video testimonials from industry experts sharing their perspectives on these topics. The paper then offers a set of tips and tricks for how best to tackle some of these trends in 2018 and beyond – whether your company is big or small.
Download the paper now!