Managing Every Mile
Cómo conseguir un excelente retorno de la inversión en viajes corporativos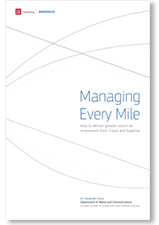 Amadeus ha encargado a la London School of Economics (LSE) este informe para ayudar a las empresas a obtener un mayor retorno de la inversión en los viajes de empresa.
Los líderes empresariales saben que, en muchos casos, los viajes de negocios son necesarios para construir relaciones estratégicas o para cerrar acuerdos, sin embargo, cuantificar el valor de estos viajes continúa siendo un desafío.
Este estudio nace a partir de entrevistas realizadas a altos directivos de grandes empresas multinacionales y revela que las organizaciones necesitan implementar un modelo integral para la gestión de los viajes y sus gastos asociados, si quieren alcanzar el máximo retorno de la inversión en términos financieros, de una mayor satisfacción de los empleados, productividad y duty of care.
¡Descarga el informe y descubre todas las claves para la gestión eficiente de los viajes corporativos!