Managing Every Mile
Cómo conseguir un excelente retorno sobre la inversión en T&E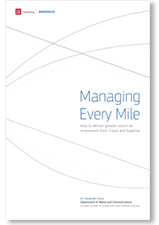 Amadeus contrató a London School of Economics (LSE) para ayudar a las empresas a entender cómo obtener un mayor ROI en los viajes corporativos.
Los líderes empresariales comprenden que en muchos casos, los viajes son necesarios para construir relaciones estratégicas o para cerrar acuerdos, sin embargo, cuantificar el valor de los viajes de negocios aún continúa siendo un desafío.
Con base en entrevistas realizadas a ejecutivos de alta gerencia de grandes empresas multinacionales, el estudio revela que las organizaciones necesitan implementar un modelo integral para la gestión de los viajes y sus gastos asociados, si quieren alcanzar el máximo retorno de la inversión (siendo el ROI definido no solo en términos financieros si no también en términos de una mayor satisfacción de los empleados, productividad y duty of care).
¡Manténgase un paso adelante y descubra mucha más información estratégica para su empresa en el reporte!