Managing every mile
Como obter maior retorno sobre o investimento em Viagens & Despesas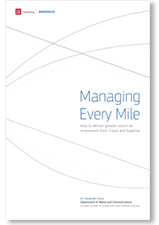 Amadeus contratou a London School of Economics (LSE) para ajudar as empresas a entender como obter um maior ROI em viagens corporativas. Líderes empresariais compreendem que, em muitos casos, as viagens são necessárias para construir relações estratégicas e para fechar acordos, mas quantificar o valor das viagens de negócios continua a ser um desafio.
Com base em entrevistas com altos executivos de grandes empresas multinacionais, o estudo revela que estas organizações precisam implementar um modelo abrangente para a gestão de viagens e suas despesas associadas caso desejem alcançar o máximo retorno sobre o investimento (sendo o ROI definido não apenas em termos financeiros, mas também em termos de maior satisfação dos funcionários, produtividade e duty of care).
Mantenha-se à frente descubra mais informações estratégicas no relatório!